Alesco Advisors Crosses $5 Billion Threshold, Introduces Christopher Brodhead As Chief Growth Officer

Alesco Advisors
Brodhead To Lead Alesco's Business Development and Marketing Efforts
ROCHESTER, NY, April 20, 2021 — Alesco Advisors LLC ("Alesco" or the "Company," or the "Firm"), announced today that fiduciary assets under advisement have reached $5 billion as of March 31, 2021.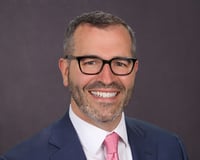 To help catalyze further growth, the company has appointed Christopher J. Brodhead to its executive leadership team as Principal and Chief Growth Officer.
Brodhead brings to Alesco more than 13 years of experience in the financial services industry. In his role as Alesco's Chief Growth Officer, Brodhead will lead the Firm's business development and marketing efforts and oversee a team of professionals responsible for serving and assisting the Company's institutional, high net worth, and qualified plan clientele.
"Chris is a service minded leader with a track record of success throughout his career, and we are excited to add him to our passionate, dedicated team." said Alesco's founder and President, James Gould. "While we celebrate crossing the $5 billion threshold in client assets, it is our emphasis on service that makes me most proud, and Chris's addition only makes us stronger in this regard."
Brodhead comes to Alesco from Benefit Street Partners LLC (a wholly owned subsidiary of Franklin Templeton), where he was Managing Director, and, previously, Broadstone Real Estate LLC, where he held multiple business development leadership positions over the course of the company's growth from a single-family office to a manager of nearly $5 billion in alternative investments. He was also named to the Rochester Business Journal's Forty Under 40 list in 2012.
"It is a distinct pleasure to be joining Alesco, which I know as a dynamic organization that truly embraces its role as a fiduciary on behalf of its clients." Said Brodhead. "I have always held the Firm in high regard and look forward to working with our team to deliver our core tenets of service, integrity, and value to our clients, nationwide."
---
About Alesco Advisors LLC
Alesco Advisors LLC is an independent, employee-owned, fee-only, SEC-registered investment advisor (RIA) focused on asset allocation, wealth management, institutional OCIO services, and retirement plan consulting. Founded in January of 2000, the firm has 26 employees and is headquartered in Pittsford, NY, with an additional office in Buffalo, NY. For more information on Alesco Advisors, visit www.alescoadvisors.com.