Welcome Megan Konieczny!

Alesco Advisors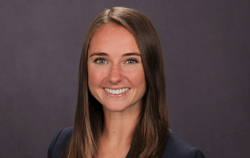 Megan Konieczny is joining the Performance Analytics Team at Alesco Advisors, as a Performance Analyst. Prior to joining Alesco Advisors, Megan was a Senior Operations Analyst at BNY Mellon.
Megan serves as a board member for Fairport-Perinton Dollars for Scholars, a local chapter of Scholarship America.
Megan resides in Fairport, NY. She enjoys playing soccer and lacrosse, skiing, and playing with her dog, Daphne. Megan is also an avid Dallas Cowboys fan.
What drew you to Alesco?
"What drew me to Alesco is the small, family-like feel of the office," says Megan. "Everyone is so kind and genuine and really wants each other to succeed!"
Welcome to the team, Megan!