Welcome Deion McFadden!

Alesco Advisors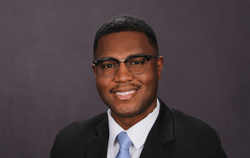 Deion McFadden is joining the Operations Team at Alesco Advisors, as an Operations and Compliance Associate. Prior to joining Alesco Advisors, Deion served as an Auditor at Manning and Napier.
Deion resides in Greece, NY with his fiancée and their son. Deion is a huge Los Angeles Lakers and New York Jets fan. His hobbies include traveling, weight lifting, playing video games, and hiking. He is also an avid sneaker collector.
What drew you to Alesco?
"The ability to be a part of a growing company with a number of career growth opportunities combined with a great office culture and work life balance," says Deion.
Welcome to the team, Deion!